Michael Hooker
Owner, Senior Krav Maga Instructor, Kickboxing/Fitness Coach, Jiujitsu Instructor
Michael began his martial arts training in 1989. His background includes Taekwondo, Jiujitsu, Muay Thai, and Kali. He began teaching Taekwondo in 1992 and started his own program at the age of 15. He began training in Muay Thai and Jiujitsu as a teenager and after a tragic car jacking left him injured and unable to train for a few months, he began questioning his own training. "I'm not sure I could have done anything different, but I was not mentally prepared to deal with that situation." He started searching for something that was designed for self-defense and found Krav Maga in the Spring of 2004. "I knew it was for me when I saw the students training in normal clothes and shoes." After training for just a few short months he traveled to the National Training Center in Los Angeles, CA to begin his instructor training. He began teaching at Mid-South Krav Maga that year and eventually became the center's lead instructor. In 2010 he decided to open his own school in Desoto County. In the winter of 2012, with the help of his staff, he expanded the program to Memphis. Mike currently holds the prestigious rank of 3rd degree Instructor Black Belt and Purple Belt in Brazilian Jiu-Jitsu. In 2015 he was invited to join the Krav Maga Alliance TRAIN THE TRAINER TEAM. An elite group of highly talented instructors in the United States and around the world, who have accepted the responsibility to help train future instructors. There are currently 12 members on this team as of 12/2015. Mike was also elected to the Krav Maga Alliance Professional Committee, who serve as the "gatekeepers" of the curriculum. This team is designated with the responsibility of exploring enhancements to our techniques and methods. Though follically challenged, he has found that what little hair he can grow can be used as a lethal velcro-like weapon during grappling.
---
Sara Ayaz
Program Director, Lead Krav Maga Instructor, Kickboxing/Fitness Coach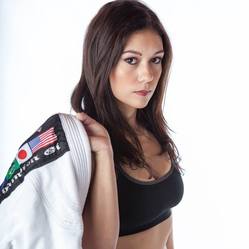 Sara began training in martial arts in 1996. Her background includes Shotokan Karate, Chinese Kenpo, Kung Fu, Judo, Jiujitsu, and Kali. She found Krav Maga in 2007 and began her instructor route in 2009. Sara holds a Black Belt under John Whitman. She is an avid CrossFitter, published author, amateur MMA fighter, and mother. In 2012, Sara was excited to have one of her articles published in the CrossFit Journal. In 2017, she received her Jiujitsu Purple Belt under Alan Shade. Sara handles the daily business operations and you'll usually speak with her when you call. You can say that she's the glue that holds KMD together. She rotates and teaches at all of our locations, and is currently studying sports nutrition and tactical firearms training. You will usually see Sara in her free time practicing Jiujitsu, CrossFitting, and occasionally eating chocolate... Lots of chocolate.

---
Matt Cox
Krav Maga Instructor, Judo Instructor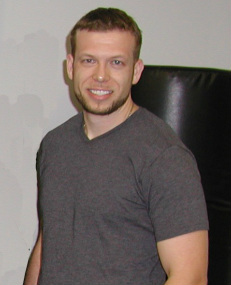 Matt is a lifelong martial artist with over 20 years of training. He holds the prestigious rank of 5th degree black belt in Taekwondo, a Black Belt in Judo, and Blue Belt in Brazilian Jiujitsu. Matt is one of the most humble gentleman that we've had the honor of knowing and I'm sure he wouldn't approve of us bragging on him but we will anyways. Matt received a gold medal competing in South Korea in 2004. We are convinced that there is not a pro basketball player that he cannot kick in the head but you won't find him condoning head kicks in a street fight. He finds much joy and practicality of simplicity of Krav Maga. You can usually find Matt training with his father, Andy. They have trained side by side in Taekwondo, Krav Maga, and in 2012 they completed the grueling 11 mile obstacle course known as Tough Mudder. During Matt's free time you can find him cross training in Judo, Taekwondo, and Jiujitsu. Matt tried out for the show Walker Texas Ranger but could not find a pair of boots that could handle the high G force. Sorry, Chuck.
---
Chris Drewry
Fitness Instructor, Personal Trainer, Nutrition Advisor, and Krav Maga Instructor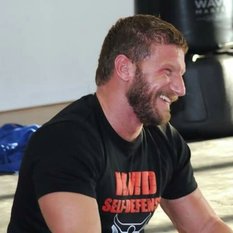 Chris began wrestling at the age of 14. He secured many medals as a varsity wrestler through high school and carried his successes with him into the USMC where he continued to wrestle for 3 more years. While in service he was introduced to the Marine Corps Martial Arts Program (MCMAP) where he applied the same level of intense study to accelerate his training and earn the Billet of Combat Readiness NCO where he was tasked to prepare his fellow Marines physically and mentally for the rigors of close quarters combat. In 2004, he found Krav Maga and got hooked. After several years of training Krav Maga with Mike, Chris made a run for a professional fitness and self-defense career. From 2007-2010 he studied and trained relentlessly. First earning his CrossFit level 1 certification directly under Greg Glassman in 2007 and becoming Memphis' first CrossFit Affiliate. He obtained 2 additional CrossFit Certification Levels in the following year. 2008 also saw him earn a spot as a World Kettlebell Club Coach under World Champion and Head Coach Valery Fedorenko. Chris remains the only WKC/AKC Girevoy Sport Coach in the Region. This same year Chris also trained Commando Krav Maga under founder Moni Aizik, securing a multi-level Instructorship. Chris also holds personal trainer certifications in the following: NASM- Certified Personal Trainer, NASM - Corrective Exercise Specialist, New Leaf Metabolic Specialist Certification, Polar Heart Rate Training Specialist, as well as countless other minor certifications. His knowledge of metabolic pathways and processes is what made him unique among trainers and wildly successful with clients suffering from multiple and difficult health conditions. Chris is known as the Combat Wombat, and once made a honey badger care.


---
David Stivers
Krav Maga Instructor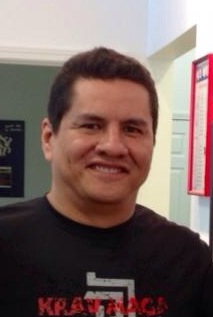 As it is with everyone in Iowa, David began wrestling in the 5th grade and continued through high school. He is a guy that puts 100% into everything he does. He has said "You can warm the bench in other sports but in wrestling, they'll find you someone wrestle." In college he found himself "looking for trouble" but soon after he met his wife, who reportedly gave him a reason to put an end to his reckless, aggressive activities. After calming him down she blessed him with two beautiful daughters. With one rapidly approaching teen years, he was looking for "a system to help my girls and myself, in an increasingly dangerous world." With the help of a friend, he found Krav Maga. Dave has been with KMD since the early beginnings and is a valuable asset to our instructor team. He now enjoys kicking butt in a safe and legal environment. Outside of Krav David enjoys time with his beautiful wife and daughters, competitive sports (especially football), and enjoys playing golf and vacationing in the mountains or at the beach. He is self-proclaimed as a scalp-proof wild Indian.
---
Josh Metcalf
Krav Maga Instructor, Wrestling Coach, en español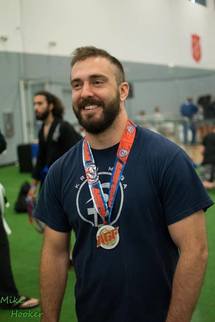 Josh has served as a Spanish teacher and wrestling coach for Collierville High. In high school, he played varsity football for 3 years and wrestled. He attended wrestling camps at Oklahoma State University and won many tournaments. He is known for grabbing Mike's kicks during sparring and seeing how high he can throw them in the air. As well as teaching for us, he also runs a course for students at UofM. Josh has a passion for traveling and learning other cultures and languages. He has lived in South Korea and Uruguay, and has traveled to nearly 40 countries in 5 continents. Josh holds a Krav Maga Alliance Instructor Black Belt, a purple belt in Brazilian Jiu Jitsu and has stepped into the octagon for an MMA fight. He also enjoys playing other sports in his spare time, including basketball. When he isn't taking people down or dribbling basket balls, he enjoys spending time with his family, taking road trips, and camping. We have all gotten ahead of ourselves and asked the class to "Chuck your tin," but Josh will be the first to ask them to "Boca tu Tarbilla."
---
Ryan Dalton
Krav Maga Instructor, Jiu-jitsu Instructor, Judo Instructor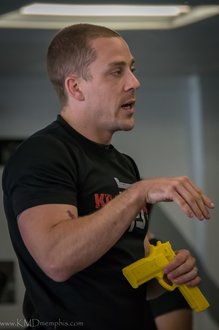 Ryan began his martial arts career in 2004. His background includes Jiu Jitsu, Judo, and Muay Thai kickboxing. He began teaching Jiu Jitsu in 2006 and started a program at Mississippi State before returning to Memphis for school and to continue his martial arts career. Over the next five years, Ryan fought on amateur mixed martial arts cards and in Jiu Jitsu tournaments across the country. During law school, he earned his black belt in Judo and enjoys integrating techniques from each of these styles into his Krav Maga training. Ryan discovered Krav Maga in 2013 and finally found the martial art that offered true self-defense and that answered questions to scenarios his previous training didn't offer. Fighting in a controlled environment, like in a ring or in a tournament, teaches how to fight under stress, but doesn't account for dangerous real world scenarios. Krav Maga offers the techniques and instills the mental attitude necessary to protect himself and his family. Ryan is an attorney by trade and works in the intelligence field. He is married to a wonderful wife who is a physical therapist that tends to his aching bones from long hours of training. He has a Doberman puppy that eats all of his training clothes if he absentmindedly leaves them on the floor.


---
Will Dixon
Dog Brothers Martial Arts Instructor, DBMA Program Director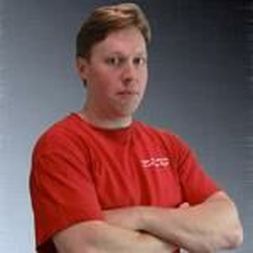 "Dog" Will Dixon, is a brown tag instructor in Dog Brothers Martial Arts and has been involved with the Filipino Martial Arts for nearly 20 years. His focus is on teaching a well rounded, lifelong self-defense system to men and women of all skill levels. Will is a native Memphian who attended the Cleveland Institute of Art in Ohio, where he earned a BFA in Illustration.
Will started training locally in the Memphis Kali Group under Guro Robin Schermerhorn in 1996. Since then, he has studied Inosanto Blend Kali/Silat with Guro Dan Inosanto, Silat Suffian Bela Diri with Maul Mornie, Close Quarter Combat (SFC Combatives) with W. Hock Hochheim, Pekiti Tirsia Kali Systems with Tuhon Leslie Buck Jr. and Dog Brothers Martial Arts under Guro Marc "Crafty Dog" Denny on numerous occasions. He also holds the (meaningless yet nevertheless intimidating) distinction of "Dog" in the Dog Brothers Tribe, and is a recognized Red Tag (Level 2) Instructor in Dog Brothers Martial Arts.
---
Buddy Hooker
Jiu-Jitsu Instructor, Krav Maga Instructor, Wrestling Coach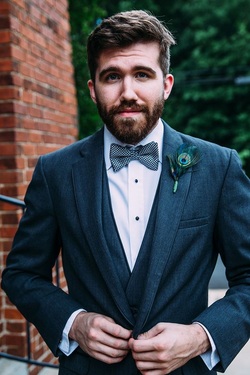 Buddy is a lifelong martial artist with a background in Jiu-jitsu, Wrestling, Krav Maga, and Pasaryu He is an experienced MMA fighter holding multiple awards, including the V3 Ammy Title Belt for his weight class. Buddy's passion is in Brazilian Jiu-Jitsu, specifically the self-defense side. Buddy is quite the gentleman, and has always been the type to take the path of least aggression. He has been able to do just that with the art of Jiu-jitsu (translated as The Gentle Way). His biggest weakness is Reese's Peanut Butter cups. That could be the only defense to get out of some of his submissions.

---
---
Ahmad Alsaffar
Jiu-Jitsu Instructor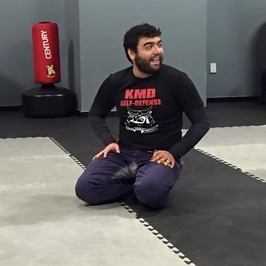 Ahmad began his training in martial arts at a young age, starting with traditional martial arts. A back injury from an accident took him out of training as it was excruciating for him to practice the forms of martial arts that he was used to. After a few years of recovery, and at the invitation of Buddy Hooker, he found Brazilian Jiu-Jitsu. "Although it was very difficult at first, it helped me to strengthen my back, enabling me to once again be able to do martial arts." Ahmad is currently a purple belt in BJJ and takes a very open minded approach to training. As a mechanical engineer by trade, he is always looking for why things work and how it can be improved upon. He is a successful BJJ competitor and coach. He has served in many corners and has been an integral part of many fighters' training camps. His main goal is to help others improve by focusing on the details and providing a fun, safe, and engaging environment in which to learn. He may also be the green Power Ranger... We aren't saying that he is, but we aren't saying that he isn't, either.
---
Mackenzie Seal
Krav Maga Instructor, Group Fitness Coach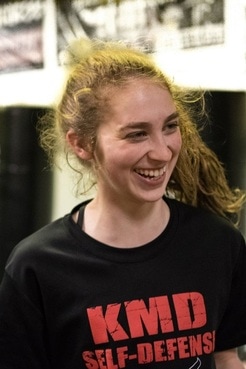 Mackenzie is uniquely Krav Maga. "I wanted to add more bark to my bite," says the senior physics major and honor student at UofM. She gained interest in Krav Maga after realizing that personal safety is not something that you can leave up to somebody else. She is a solo international traveler and in her own words, a loud mouth sometimes. She felt it was in her best interest to acquire some self-defense skills. Her academic achievements are a testament to her intellectual ability, but that would be selling her short. "I am all about breaking down barriers." In less than a year, she passed the grueling Krav Maga Alliance Instructor test. She adds a very unique perspective for the students at KMD by showing what it looks like to effectively defend against larger attackers as a small female. Mackenzie also trains in BJJ. We are pretty sure she doesn't sleep. It wouldn't be fair to leave out the following disclaimer about her classes... Her warm ups are killer. Be sure to prepare your legs and glutes because, according to her, every day is leg day. You can always spot her in a room because she will be skipping around. Never ever give her caffeine .

---

Bobby Buls
Firearms Instructor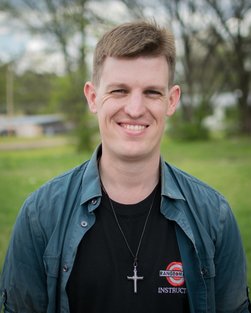 Bobby is our on-call firearms instructor. His passion is found in both traditional and modern weaponry. He trained under Tom Givens at Rangemaster of Memphis, later assisting with classes and shooting instruction there. He is now certified as a handgun instructor by the state of Tennessee. Bobby is also proficient in how to throw knives, axes, and spears, and has been shooting traditional archery for over 17 years, winning many awards and contests. His martial arts career began in 1992 in Taekwondo, eventually achieving a 4th degree black belt. He was a national champion in 2000, and has dabbled in several other martial arts. As a soldier with the Army National Guard, he has been a member of the 130th Military Police Company, based in Millington, TN, since 2014. Bobby once appeared as a walk-on in 'The Walking Dead' as an archery instructor. He tried to bow up to Daryl.

---